Beth Campbell-Bush Directory Page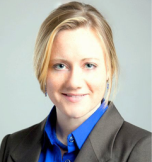 Contact
---
Beth studies patterns of influence in teams and workgroups, and how those patterns influence individual and collective outcomes. In her dissertation, she specifically explores consequences of high performance in workgroups and teams, examining social consequences faced by high performers and also consequences that high performers pose to their peers and their teams.
Education:
University of Maryland, Robert H. Smith School of Business, College Park, MD
Ph.D., Organizational Behavior and Human Resource Management (expected May 2014)
Dissertation:  The dimming effects of shining stars: Consequences earned and posed by high performers at work 
Most organizations have adopted two practices as mainstays. First, business and human resource leaders pursue "the best and the brightest," recruiting high performers to drive success within their organizations. Second, organizations increasingly adopt job designs that rely on workgroups and teams to accomplish goals. At the nexus of these trends seems an important puzzle; leaders recruit "standouts," yet want them to seamlessly embed within workgroup and teams. I am intrigued to address what seems a critical disconnect. Specifically, high performers offer benefits but also spark unfavorable dynamics. In three essays, my dissertation develops and tests a theory of consequences of high performance—examining consequences for high performers, their peers, and their teams. In Essay 1, I offer a theoretical and empirical account of how peers behave toward higher performers. In Essay 2, I examine how the presence of a high performer affects peer motivation and inhibition. In Essay 3, I investigate how differentiation of member performance can prove paradoxical to team innovation: constraining creativity while facilitating coordination needed for effective idea implementation.
Committee:  Hui Liao (chair), Kathryn M. Bartol (co-chair), Rellie Derfler-Rozin, Paul Hanges, and Debra L. Shapiro.
University of Michigan, Honors College, Ann Arbor, MI
B.A., Psychology, minor in Spanish Language & Literature (2005) 
Magna Cum Laude with High Honors and Distinction, James B. Angell Scholar (2002-2005) 
Undergraduate Thesis: Job burnout revisited: The impact of making a difference at work
Publications & Papers Under Revision:
• Campbell-Bush, E. M., Liao, H., Chuang, A., Zhou, J., & Dong., Y. Hot shots and cool reception: Social consequences of high performance at work. Status: Invited revision, Academy of Management Journal. 
       o Dissertation, Essay 1
• Dong, Y., Liao, H., Chuang, A., Zhou, J., & Campbell-Bush, E. M. Invisible hands in service creativity: Joint effects of customer empowering behaviors and empowering leadership. Status: Under 2nd round review, Journal of Applied Psychology. 
       o Awarded 2012 OB Division Most Innovative Student Paper at Academy of Management
• Chen, G., Farh, J. L., Campbell-Bush, E. M., Wu, Z., & Wu, X. in press. Teams as innovative systems: Multilevel motivational antecedents of innovation in R&D teams. Journal of Applied Psychology.
• *Martin, S., *Liao, H., & *Campbell-Bush, E. M. in press. A field experiment comparing directive to empowering leadership in the Middle East. Academy of Management Journal. 
       o *Denotes equal authorship contribution
• Grant, A. M., & Campbell, E. M. 2007. Doing harm, doing good, being well and burning out: The interactions of perceived prosocial and antisocial impact in service work. Journal of Occupational andOrganizational Psychology, 80: 665–691.
       o Based on undergraduate thesis.
• Grant, A. M., Campbell, E. M., Chen, G., Cottone, K., Lapedis, D., & Lee, K. 2007. Impact and the art of motivation maintenance: The effects of contact with beneficiaries on persistence behavior.Organizational Behavior and Human Decision Processes, 103: 53-67.
       o Awarded 2008 Best Published Scholarly Article, Center for Positive Organizational Scholarship
Primary Research Interests:
• Consequences of high performance, status differences, and proactivity 
• Interpersonal processes, states, and interactions within workgroups and teams 
• Multilevel phenomena within workgroups and teams
Primary Teaching Interests:
• Organizational Behavior
• Human Resource Management
• Leadership & Teamwork
• Power & Influence
• Negotiations