Center Members
Inovalon


Inovalon is a leading technology company that combines advanced cloud-based data analytics and data-driven intervention platforms to achieve meaningful insight and impact in clinical and quality outcomes, utilization, and financial performance across the healthcare landscape. Inovalon's unique achievement of value is delivered through the effective progression of Turning Data into Insight, and Insight into Action®. Large proprietary datasets, advanced integration technologies, sophisticated predictive analytics, data-driven intervention platforms, and deep subject matter expertise deliver a seamless, end-to-end capability that brings the benefits of big data and large-scale analytics to the point of care. Driven by data, Inovalon uniquely identifies gaps in care, quality, data integrity, and financial performance – while bringing to bear the unique capabilities to resolve them. Providing technology that supports hundreds of healthcare organizations in 98.2% of U.S. counties and Puerto Rico, Inovalon's cloud-based analytical and data-driven intervention platforms are informed by data pertaining to more than 769,000 physicians, 261,000 clinical facilities, and more than 123 million Americans providing a powerful solution suite that drives high-value impact, improving quality and economics for health plans, ACOs, hospitals, physicians, consumers and pharma/life-sciences researchers.
XFI


Founded in 1996, XFI spent years in the development of an artificial intelligence (AI) technology called Xference® that transforms the art of decision-making. Based on expert systems and fuzzy logic, Xference supplies data, information, understanding, analysis, advice, and organization to the decision process. For the past three years, XFI's primary focus has been developing technology for the delivery of novel diagnostics and therapeutics in critical healthcare fields such as oncology. Starting in 2015, XFI shifted its focus from business-to-business to patient-direct solutions, currently code-named Zatient®. Zatient is an AI-based healthcare application for use by patients, families, and healthcare practitioners. Zatient applies XFI's knowledge and experiences over the past 20 years to patient decision-making. Zatient will deliver clear, unbiased information relevant to the patient's specific condition and sensitive to the patient's and family's personal value system and preferences. Zatient will guide, inspire, and enable patients to better understand and participate in high-quality healthcare decisions.
Accenture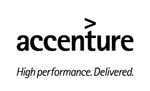 Accenture is a global management consulting, technology services and outsourcing company, with more than 246,000 people serving clients in more than 120 countries. Accenture Health delivers a wide range of healthcare solutions—from health information management and electronic medical records to clinical transformation and health analytics. Our solutions are backed by real-world experience, business and clinical insights and innovative technologies. Accenture Health helps organizations around the world use knowledge in new ways for more effective, efficient and affordable healthcare with Insight Driven Health.
Booz Allen Hamilton


Booz Allen Hamilton is a leading provider of management consulting, technology, and engineering services to the U.S. government in defense, intelligence, and civil markets, and to major corporations, institutions, and not-for-profit organizations. Booz Allen is headquartered in McLean, Virginia, employs more than 23,000 people, and had revenue of $5.76 billion for the 12 months ended March 31, 2013.
CareFirst BlueCross BlueShield


CareFirst BlueCross BlueShield is a not-for-profit health care company which, along with its affiliates and subsidiaries, offers a comprehensive portfolio of health insurance products, direct health care, and administrative services to nearly 3 million individuals and groups in Northern Virginia, the District of Columbia, Maryland, and Delaware.
CNSI


CNSI delivers a broad portfolio of information technology (IT) and business process outsourcing (BPO) solutions to a diverse base of federal, state and local government agencies, and commercial enterprises. The firm helps clients improve business performance and align IT with their mission and business objectives. CNSI has established strong domain expertise in prominent industries, including Health, Defense, and National Security, Government IT and Enterprise Mobility. CNSI employs a world-class team of technologists, program managers, and subject matter experts, all of whom have experience with large-scale mission-critical IT implementations. Formed in 1994, CNSI is headquartered in Gaithersburg, Maryland, with locations throughout the U.S. and India.
Johnson & Johnson


Caring for the world, one person at a time…inspires and unites the people of Johnson & Johnson. We embrace research and science – bringing innovative ideas, products, and services to advance the health and well-being of people. Our 119,000 employees at more than 250 Johnson & Johnson companies work with partners in health care to touch the lives of over a billion people every day, throughout the world.
MAXIMUS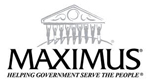 MAXIMUS is a leading health and human services administrator for governments in the United States, United Kingdom, Canada and Australia. We deliver administrative solutions to improve the cost-effectiveness, efficiency, and quality of government-sponsored benefit programs, such as Medicaid, Medicare, Children's Health Insurance Program (CHIP), Health Insurance BC (British Columbia), as well as welfare-to-work and child support enforcement programs across the globe. Headquartered in Reston, Virginia and with more than 7,000 dedicated employees worldwide, MAXIMUS focuses on building public-private partnerships with federal, provincial, state, county, and municipal governments to deliver reliable, cost-effective solutions.