People
Wedad J. Elmaghraby
Co-Director of the Smith Analytics Consortium
Wedad Elmaghraby is a professor in the Operations Management and Management Science group at the Smith School. Her current research interests focus on the impact of market structure on the profitability and performance of business-to-business markets. Using both controlled lab experiments and proprietary data from industry collaborators, she has explored market frictions and behavioral factors that influence bidder behavior (how much they bid and when they bid) in secondary market auctions for used/returned electronic merchandise, the role of ambiguity and risk in a retailer's selection of product assortment in retail settings, and interaction and influence of decision support tools on operations decision of employees using such tools (such as pricing). Her current areas of application include online markets for the fashion sharing economy, online markets for excess inventory, energy markets and the retail sector. Prior to joining the Smith School, she was on the faculty of the School of Industrial and Systems Engineering at Georgia Institute of Technology and NYU Stern School of Business in the Operations Management group.
Wendy Moe
Co-Director of the Smith Analytics Consortium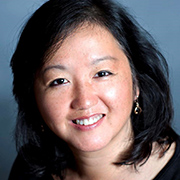 Wendy W. Moe is the Associate Dean of Master Programs, Dean's Professor of Marketing and Co-Director of the Smith Analytics Consortium at the Robert H. Smith School of Business, University of Maryland. She is an expert in online marketing and social media and is the author of Social Media Intelligence. Professor Moe's research has appeared in numerous leading journals. She is the Co-Editor of the Journal of Interactive Marketing and serves on the editorial boards for Journal of Marketing Research, Marketing Science, and Journal of Marketing. In addition to her academic work, Professor Moe has consulted for numerous corporations and government agencies, helping them develop and implement state-of-the-art statistical models in the context of web analytics, social media intelligence and forecasting. She has also been an expert witness and consultant for litigation related to online retailing, advertising, and branding issues.
Professor Moe has been on the faculty at the University of Maryland since 2004. Prior to that, she was on the faculty at the University of Texas at Austin. She holds a PhD, MA and BS from the Wharton School at the University of Pennsylvania as well as an MBA from Georgetown University.