FDA and M-CERSI Workshop
It's big, but is it useful? A scientific inquiry into how mobile health and social media data may inform medical product safety
This workshop is supported by the University of Maryland's Center of Excellence in Regulatory Science Innovation (M-CERSI) in collaboration with the University of Maryland's Center for Health Information and Decision Systems at the Robert H. Smith School of Business. M-CERSI is funded by the U.S. Food and Drug Administration.
Date: Friday, September 11, 2015
Time: 12:30 – 5 p.m.
Location: Stamp Student Union, University of Maryland, College Park, MD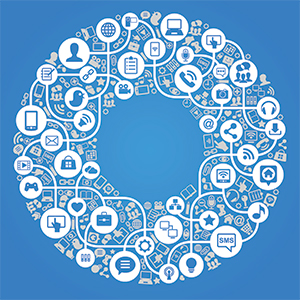 This half–day conference will seek to answer important scientific questions about using two of the most ubiquitous and fastest growing data sources, mobile health data and social media data, focusing especially on the implications for product safety. These data sources create unique and hitherto unavailable opportunities, but there are important questions that need to be answered. This workshop will bring together thought leaders from industry, academia, and the regulatory communities to reflect on the opportunities and challenges that these new data sources create.
Questions the workshop will seek to address include:
What is the current landscape of mobile health and social media data and what does the future hold?
What new technologies and tools are needed to support useful, nearer real-time? analysis of mobile health and social media data?
What are the methodological opportunities and challenges in making sense of these data?
How can we understand trust and influence within social media data?
What role should standards and interoperability play in mobile health?
Program
See presentation links next to speaker name.
12:30 - 1 p.m.

Registration

1 - 1:45 p.m.

Welcome and Keynote

Skip Francis [DOWNLOAD PRESENTATION]
Director of Data Mining, Center for Drug Evaluation and Research, Office of Translational Sciences, FDA

1:45 - 2 p.m.

Break

2 - 2:50 p.m.

Panel: Envisioning the Future of Mobile Informatics

The panel will seek to help the audience understand the current landscape of mobile health data and how that data may be relevant for learning about safety of medical products. What challenges must be addressed to optimize this opportunity? What may be the technical architecture and analytical methods that enable robust analysis for safety?

Panelists

Bakul Patel
Associate Director
Digital Health at FDA

Isaac Chang, PhD [DOWNLOAD PRESENTATION]
Director, Division of Postmarket Surveillance
Office of Surveillance and Biometrics, Center for Devices and Radiological Health at FDA

Guodong "Gordon" Gao, PhD [DOWNLOAD PRESENTATION]
Associate Professor, Robert H. Smith School of Business
Co-Director, CHIDS

2:50 - 3 p.m.

Break

3 - 4:15 p.m.

Panel: Social Media Data Opportunities, Methods and Challenges

The panel will seek to help the audience understand specific methodological challenges to social media analytics, especially for safety and understanding health. To what extent can we trust the data generated through this channel? What are the best social channels for capturing useful data? For example, how can Twitter data be applied to safety surveillance?

Panelists

Social Media Language as an Encoding of Our Mental and Physical Well-Being
Andrew Schwartz, PhD [VIEW PRESENTATION]
Assistant Professor, Stony Brook University

Trust and Influence in Social Networks and its Implications for Safety Surveillance
William Rand, PhD [DOWNLOAD PRESENTATION]
Associate Professor, Robert H. Smith School of Business
Director, Center for Complexity in Business

Using Social Media to Support Safety Surveillance Efforts (with software demonstration)
Nabarun Dasgupta, PhD [DOWNLOAD PRESENTATION]
Chief Data Scientist, Epidemico

4- 4:30 p.m.

Closing remarks

Ritu Agarwal, PhD [DOWNLOAD PRESENTATION]
Professor and Chair, Robert H. Smith School of Business, Co-Director, Center for Health Information and Decision Systems

4:30 - 5 p.m.

Networking