2017 Conference on Health IT and Analytics (CHITA)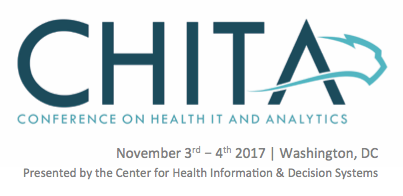 The Conference on Health IT and Analytics (previously known as the Workshop on Health IT & Economics) is an annual health IT and analytics research summit, including a doctoral consortium that each year gathers prominent scholars from more than 40 research institutes, and leading policy and practitioner attendees in a vibrant setting to discuss opportunities and challenges in the design, implementation and management of health information technology and analytics. Its goal is to deepen our understanding of strategy, policy and systems fostering health IT and analytics effective use and to stimulate new ideas with both policy and business implications.
This forum provides a productive venue to facilitate interaction and collaboration among academia, government, and industry. Now in its 8th year, each year CHITA draws over 100 participants.
Hosted by the Center for Health Information & Decision Systems (CHIDS), support for CHITA is provided by the Robert H. Smith School of Business and the University of Michigan School of Public Health.
We hope that you will join us for this engaging, stimulating and fun event!
Featured Speakers
Martin "Marty" Makary
Chief, Islet Transplant Surgery, Professor, NYT best-selling author
Johns Hopkins University School of Medicine

Warren D. D'Souza
Vice President, Enterprise Data and Analytics
University of Maryland Medical System
Featured Panelists
Cupid Chan
Chief Technology Officer
Index Analytics

Rema Padman
Professor of Management Science and Healthcare Informatics
Carnegie Mellon University

Anna T. Fernandez
Senior Associate, Health Informatics
Booz Allen Hamilton

Charles Gabrial
Analytics & Data Science Manager
Defense Health Agency

Hoo Chang Shin
Solutions Architect
NVIDIA

Hong Yu
Professor of Quantitative Health Sciences
University of Massachusetts Medical School