Affiliated Faculty/ Fellows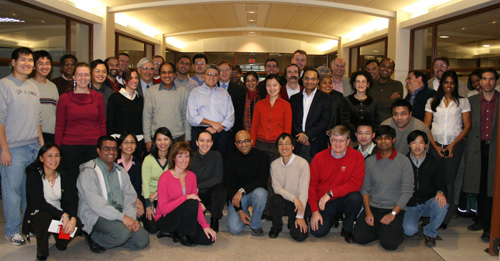 The Center for Health Information and Decision Systems brings together distinguished faculty from the Department of Decision, Operations and Information Technology, other departments at the Robert H. Smith School of Business, and other academic units within the University of Maryland system with special expertise to conduct healthcare-related research. The faculty offers a diverse, multifaceted perspective on health care research issues and challenges.
Corey M. Angst is an assistant professor in the management department at Mendoza College of Business, Notre Dame, Indiana. He was the associate director and co-founder of CHIDS and has contributed significantly to CHIDS' research activities. His major areas of research interest are the transformational effect of IT on the healthcare industry, privacy and other barriers to the adoption of health information technology and technology usage in the healthcare sector.
John S. Baras holds a permanent joint appointment as professor in the department of electrical and computer engineering is the Lockheed Martin Chair in Systems Engineering. Baras' health research IT interests span a range of applied engineering techniques, mathematical models and methods that improve the performance, resiliency and intelligence of systems.
Sean L. Barnes is an assistant professor of operations management in the Robert H. Smith School of Business at the University of Maryland. His current research interests are modeling the transmission of infectious diseases, healthcare operations management, simulation, and complex systems.
Margrét Vilborg Bjarnadóttir, is an assistant professor of management science and statistics in the decision, operations & information technologies department. Bjarnadóttir specializes in operations research methods using large scale data. Her work spans applications ranging from analyzing nation-wide cross-ownership patterns and systemic risk in finance to drug surveillance and practice patterns in health care. She has consulted with both health care start-ups on risk modeling using health care data as well as governmental agencies such as a central bank on data-driven fraud detection algorithms.
Cupid Chan is a seasoned professional who is well-established in the industry. His journey started out as one of the key players in building a world-class BI platform. Aside from holding various technical accreditations, his credential extends into business qualifications such as PMP, Lean Six Sigma and SAFe Agilist. Chan has been a consultant for years providing solutions to various Fortune 500 companies as well as the public sector. He is the lead architect for the business intelligence analytics program in the Centers for Medicare & Medicaid Services.
Gordon Gao is an associate professor in decision, operations & information technologies at the Smith School. His research interests in the healthcare management area related to quality and transparency, health 2.0 and the business and economic value of IT in healthcare.
Timothy B. Gilbert, M.D., is a professor of anesthesiology and associate vice chair for clinical research in the anesthesiology department at the University of Maryland Medical Center. He has special interests in computer applications, respiratory physiology, adult cardiac critical care, echocardiography, and transplant anesthesia.
Bruce Golden is a professor and the France-Merrick chaired professor in management science at the Smith School. His research interests in the healthcare domain are focused on methods for the optimization of different facets of hospital operations.
Sunil Mithas is the Ralph J. Tyser Professor of Information Systems at the Smith School. His research interests are in the business value of IT. Recently he is has been engaged in a study on the health status and IT investments of various countries, along with Jiban Khuntia of CHIDS.
Kislaya Prasad is a research professor at Smith School and a guest scholar at the Brookings Institution. His current projects and research interests related to healthcare include medical treatment variations and diffusion of technologies in medicine, and physician social networks and medical practice.
Louiqa Raschid is a professor in the decision, operations & information technologies department and at UMIACS of the University of Maryland. She has interests in bioinformatics, data delivery platforms for healthcare, and health data representation and management.
Mei-Ling Ting Lee is a professor in the Department of Epidemiology and Biostatistics and director of the Biostatistics and Risk Assessment Center (BRAC) at the University of Maryland, College Park. With over 35 years of experience, Lee has a broad background in statistical and applied probability modeling with applications to aging studies, cancer, childbirth, epidemiology, microbiology, genomics, and other biomedical areas.
Bo Xie is an associate professor at the University of Texas at Austin. Her research interests include health informatics, older adults' learning and use of computers and the Internet, computer literacy, lifelong learning, civic engagement, volunteering, social relationships, social support, online communities, and health and well-being.